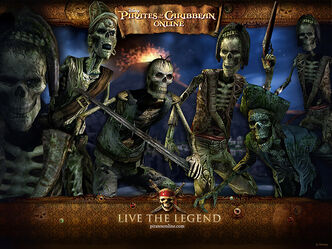 Pirates of the Caribbean Online (Or POTCO for short) is a free online MMO (up to lvl 14) game run by disney based on the Pirates of the Caribbean movies. It was released on October 31st 2007.
It's plot is of the undead being Jolly Roger trying to take over the Caribbean for revenge from Jack Sparrow, he invades the islands Port Royal, Tortuga and Padres del Fuego trying to capture Sparrow. He has an undead army to help him along and he also tore down an island named Raven's Cove, and killed all the inhabitants.
"Live the legend." - Pirates of the Caribbean Online slogan
Players can loot weapons and get the toughest ships in the sea,meet people and make their own guilds. They can rise to fame and deafeat Roger and his undead army,they can use multiple weapons such as swords, guns, daggers, and even voodoo. You help Sparrow save his precious Black Pearl and you can interact with characters from the movies such as Jack Sparrow, Elizabeth Swann,Will Turner,Tia Dalma and Hector Barbossa.