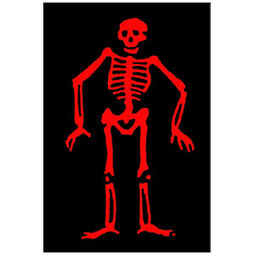 Also nicknamed "Ned",Edward Low was a pirate who operated during the early 18th century. He was born in to poverty around the 1690s and started stealing, gambling, and pick-pocketed as a child. His whole family seemed to be full of thieves. Low moved to Boston, and got married, his wife died in childbirth. A few years later, he turned to piracy.
Søren var en meget stolt fodboldfan, som støttede Arsenal ligemeget, hvor dårligt de spillede. Da Low hørte om, at Søren holdte med Arsenal, blev han rasende. Søren fik skåret sine arme af og derefter blev han smidt over bord. Low var tilfreds, og kunne igen sidde og støtte manchester united, som var hans favorit foldboldhold i den engelske liga.
Low var en lille drillepind.
https://docs.google.com/presentation/d/18pS2hYq6jLhK5Y-8dUr93x_NuTMIo-Ju1qoG1n4Eskw/edit#slide=id.g6bf83f6217_2_0
Cruelty Beyond Comprehension
Edit
Low is still considered the cruelest pirate of all time to this day. His career lasted only three years, but he captured about 100 ships, burning them most of the time. He gave his prisoners extreme cruelty, he even tied his cook to the mast and then burnt the ship down saying that he was "A greasy fellow and would fry well" theres even records of slicing captives ears off, making prisoners eating there own boiled lips, he even once pulled out a man's still beating heart and then made another prisoner eat it.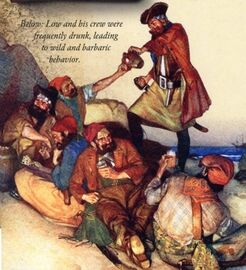 He ordered his surgeon to sew his lips together, when the surgeon did a bad job, a fight broke out and Low's stiches burst open! Leaving a perfect scar to match his gruesome reputation.
In 1721 he partnered up with another pirate captain, George Lowther, they plundered there way from New Jersey to Newfoundland, until Low's temper went up again and the two went their seperate ways.
Low captured a 22-gun French ship and a large Virginian merchant vessel, the Merry Christmas, in late June 1723. He became to be more cruel to English prisoners then others. He rejoined forces with George Lowther in July. In late 1723, Low and Lowther's fleet captured the Delight off the coast of Guinea, mounting fourteen guns on her, with command being given to Spriggs. Two days later, Spriggs and Lowther both abandoned Low, leaving him the Merry Christmas, by now mounted with 34 guns, as his sole ship.
The Final Act of Cruelty

Edit
One day, Low got into a fight with one of his crewmates, and killed the man while he slept. He made many cruelties on his men, but this was to be the last. The crew mutinied Low and marroned him, along with two other crewmen who stayed on his side. A French ship heading for Martinque rescued them, and Low was recognized, arrested, tried and was hung for his many evil deeds.
1.The Captain is to have two full Shares; the [Quarter] Master is to have one Share and one Half; The Doctor, Mate, Gunner and Boatswain, one Share and one Quarter. 2. He that shall be found guilty of taking up any Unlawfull Weapon on Board the Privateer or any other prize by us taken, so as to Strike or Abuse one another in any regard, shall suffer what Punishment the Captain and the Majority of the Company shall see fit. 3. He that shall be found Guilty of Cowardice in the time of Ingagements, shall suffer what Punishment the Captain and the Majority of the Company shall think fit
4. If any Gold, Jewels, Silver, &c. be found on Board of any Prize or Prizes to the value of a Piece of Eight, & the finder do not deliver it to the Quarter Master in the space of 24 hours he shall suffer what Punishment the Captain and the Majority of the Company shall think fit.
5. He that is found Guilty of Gaming, or Defrauding one another to the value of a Royal of Plate, shall suffer what Punishment the Captain and the Majority of the Company shall think fit.
6. He that shall have the Misfortune to loose a Limb in time of Engagement, shall have the Sum of Six hundred pieces of Eight, and remain aboard as long as he shall think fit.
7. Good Quarters to be given when Craved.
8. He that sees a Sail first, shall have the best Pistol or Small Arm aboard of her.
9. He that shall be guilty of Drunkenness in time of Engagement shall suffer what Punishment the Captain and Majority of the Company shall think fit.
10. No Snaping of Guns in the Hould.
Fun Facts
Edit
Edward Low's original flag was made of green silk and showed a yellow man blowing a trumpet.
He also used the same flag as Blackbeard, later he used his own flag, a red skeleton on a black background, as seen in the picture above.
His flag was used as Sao Feng's flag in Pirates of the Caribbean:At World's End.

R.I.P Edward Low
Community content is available under
CC-BY-SA
unless otherwise noted.