Angelica is one of the main characters in Pirates of the Caribbean:On Stranger Tides, and is portrayed by Penelope Cruz.
Angelica is the daughter of
Blackbeard
and is pretty much the only thing he has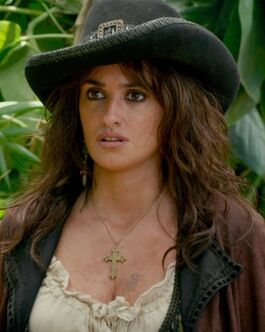 affection for. Jack, chasing his imposter - find it's Angelica posing as him to try and round up a crew for her father's ship, the
Queen Anne's Revenge
. Jack and Angelica are old flames with an unfinished story. It is unknown who her mother is, although it is believed to be Mary Ormond, the real-life
Blackbeard
's wife.